BMNH's New Progress in Museum-College Fossil Research Collaboration
published:2021-07-07
Written by Dr. WANG Baopeng
The Beijing Museum of Natural History (BMNH), with its science research and popularization expertise and rich resources, adheres to the principle of opening up in museum management and has proactively collaborated with other museums, colleges, universities and other institutions home and abroad and established cooperation bases. On 8th Jan., 2020, BMNH and Chaoyang Teachers College of Liaoning Province reached an agreement to jointly advance fossil research and protection, as well as science communication in Chaoyang, aiming at further promoting Chaoyang's fossil culture.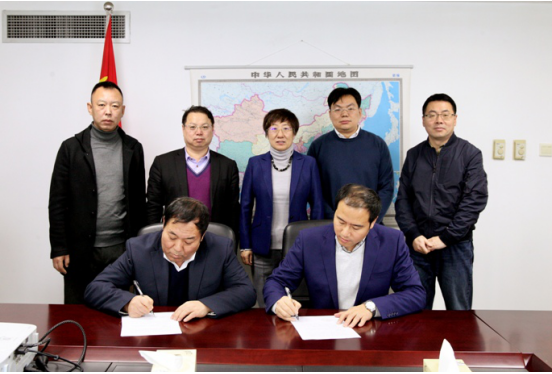 BMNH and Chaoyang Teachers College reach a comprehensive cooperation agreement
Chaoyang, at the core of the world-renowned Johol Biota, is considered as the "treasure house of fossil" in the world. The area has produced a large quantity and variety of fossils of great significance for scientific researches and popular science.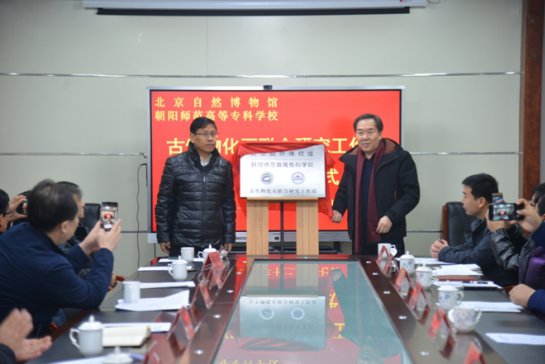 QU Peng, president of Chaoyang Teachers College, and ZUO Daihui, deputy director of BMNH, unveil the plaque of the work station
The museum and the college set up a collaborative mechanism and a research work station, with Dr. WANG Baopeng, a paleontologist in the museum, as the coordinator for the cooperation. Chaoyang Teachers College provides for the work station and has built a laboratory with fossil restoration and other equipment. On Dec. 17th, 2020, QU Peng, President of Chaoyang Teachers College, and ZUO Daihui, Deputy Director of BMNH, unveiled the plaque of the work station. The cooperation is also supported by Chaoyang Municipal Education Bureau, Chaoyang Municipal Natural Resources Bureau, Lingyuan Municipal Natural Resources Bureau, fossil authorities of Beipiao City, Chaoyang County, Ningcheng County, and local governments of Yangshan Town and Shengli Town.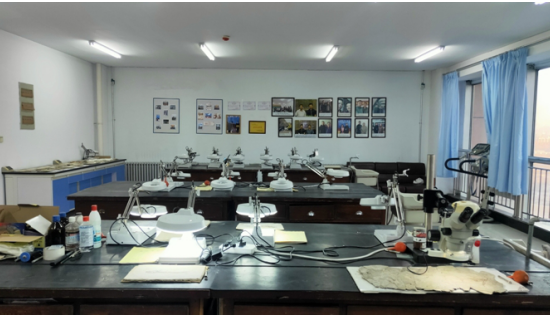 The fossil restoration lab at Chaoyang Teachers College
As the work station has officially opened, BMNH's strengths in field work, researches, science communication and promotion, and Chaoyang Teachers College's solid background in regional fossils will complement each other in comprehensive cooperation in fields, such as dinosaur footprints in Chaoyang. The two parties will continue to provide more support for this museum-college collaboration project.